Record 6.37 lakh Olive Ridley turtles arrive at Odisha's Rushikulya beach for mass nesting 
About 6.37 lakh Olive Ridley sea turtles have arrived for mass nesting at Rushikulya coast this year, setting a new record for the beach in Odisha's Ganjam district.
The arrival of 6.37 lakh turtles during February 23 to March 2 — which is treated as a mass nesting period — was attributed to emergence of new beaches for laying of eggs near Podampetta area, Sunny Khokkar, Berhampur Divisional Forest Officer told over the phone.
Mr. Khokkar said, this year, the beaches remained unaffected as there were no extreme weather events such as cyclone and heavy rain and turtles ascended perfectly sloped beaches at Rushikulya River Mouth. Last year, 5.5 lakh Olive Ridley turtles had come to Rushikulya for mass nesting.
In Frames | Arribada ahoy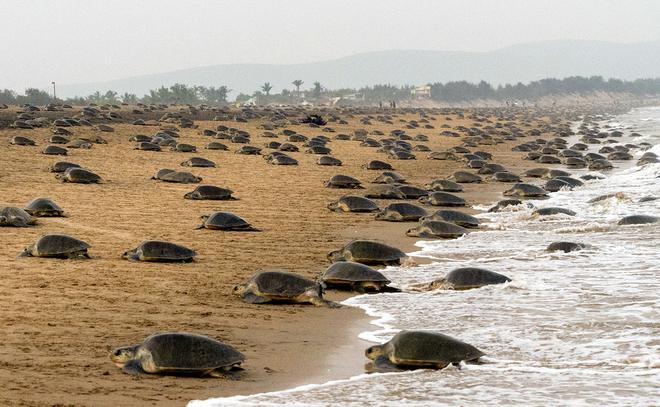 Finding sanctuary: Olive Ridley turtles, a vulnerable species according to the International Union for Conservation of Nature, come ashore to the Rushikulya river mouth in Odisha for laying eggs.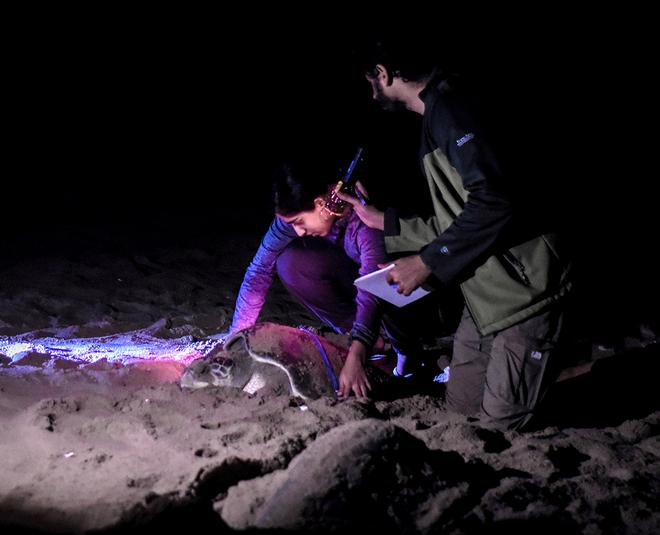 For the record: A wildlife official measures an Olive Ridley turtle, which has arrived on the beach along Podampeta village in Ganjam district.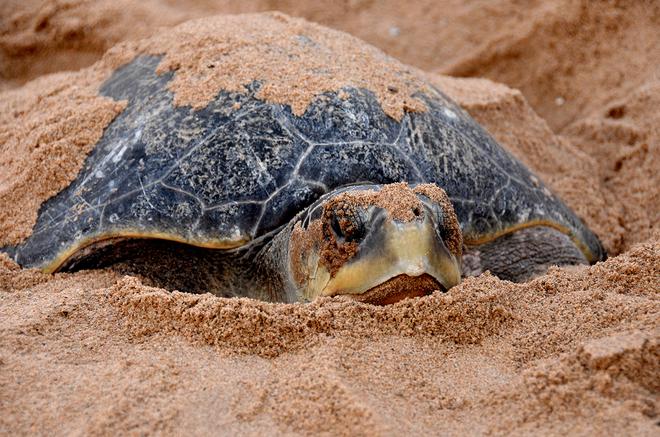 Destination reached: Once a turtle finds the right spot, it settles down to make a shallow nest where it will lay about 100 eggs on an average.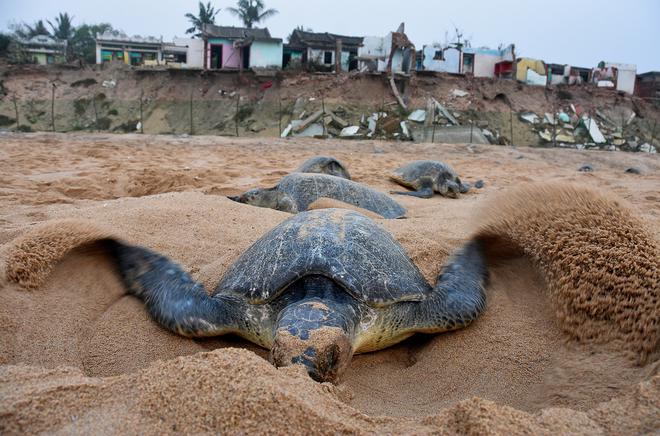 Flip side: A turtle uses its flippers to scoop out sand to create a cavity 30 cm to 50 cm deep to lay eggs.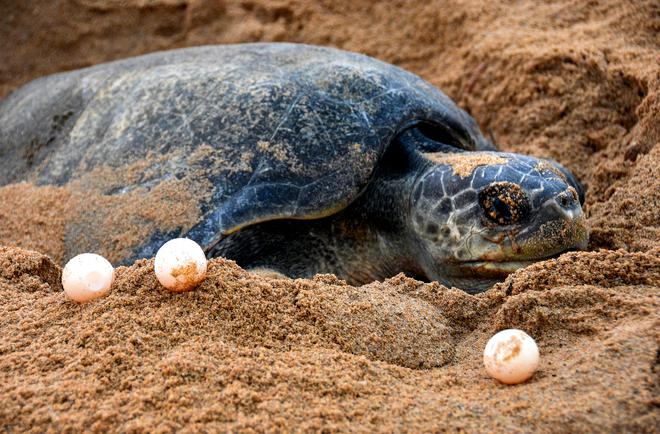 Handle with care: Olive Ridley eggs need protection from stray dogs and human interference. If a nest has been disturbed, the eggs are sometimes moved by wildlife officials to a protected spot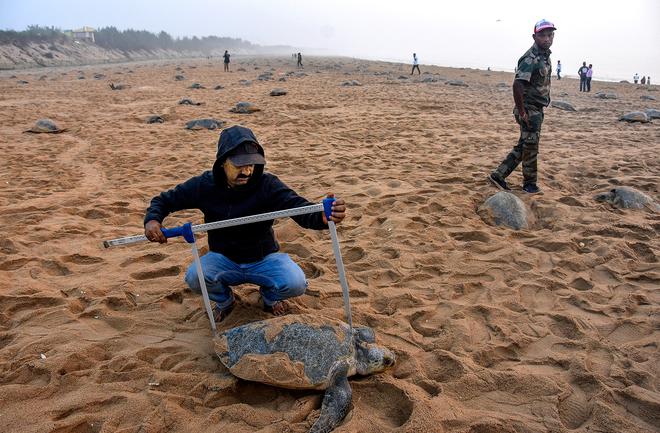 Measure for measure: Growing to about half a metre and 50 kg in weight, the Olive Ridley turtle gets its name from its green­grey carapace (top shell). It is the smallest of all the sea turtle species.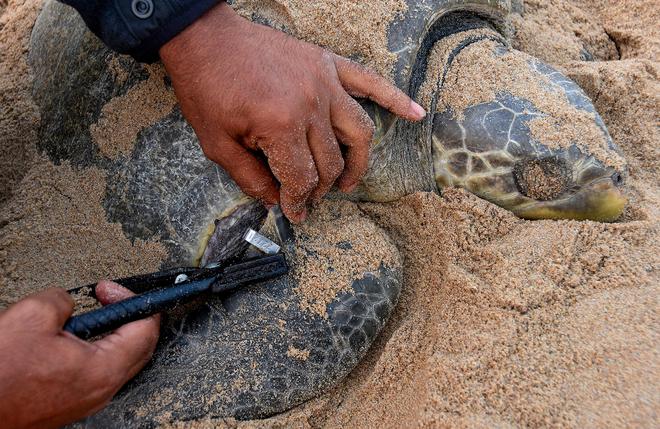 Keeping track: An Olive Ridley turtle is tagged to help in identifying its migration path, understand the behaviour of marine reptiles and use that knowledge for conservation efforts.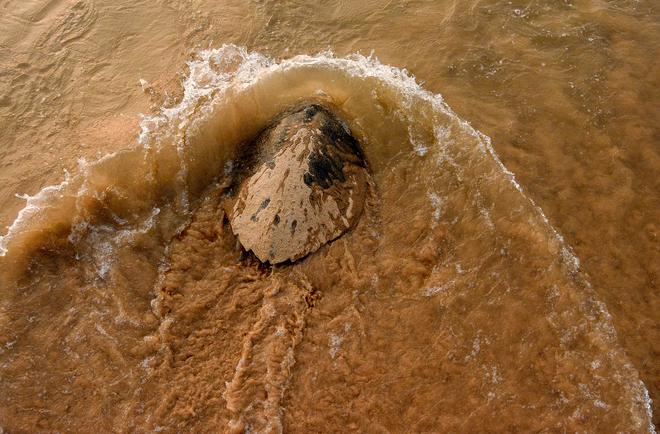 Long swim ahead: A turtle makes its way back to the ocean after nesting.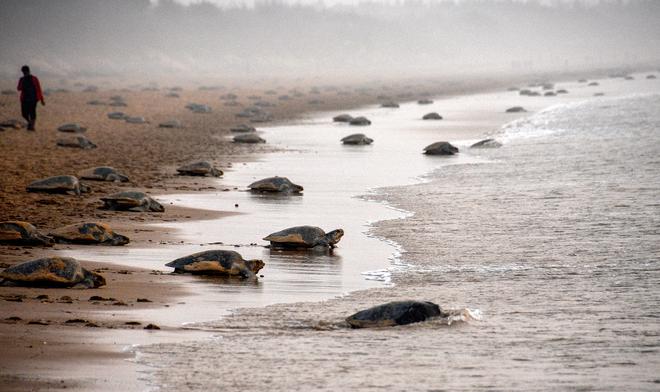 Au revoir: The Olive Ridley turtles do not wait to see the eggs hatch, but come back next seasons to lay eggs again. They spend their lives in the ocean, inhabiting the tropical and subtropical waters of the Pacific, Indian and Atlantic oceans.
1/3
"The actual number of Olive Ridleys coming to Rushikulya Mouth would go up as turtles keep coming to the coast after March 2. We are currently counting the number of turtles received during sporadic nesting witnessed after March 2," he said. The forest division has stepped its supervision to prevent turtle mortality by deploying forest officials.
Olive Ridley turtles dig holes on the beach with their front flippers for hours. Subsequently, they use their hind flippers to scoop out sand to create a cavity. They lay dozens of eggs at one go and cover it again with sand. Before sunrise, the turtles return to the sea, leaving behind the eggs, which would hatch after 40-60 days. The hatchlings are expected to emerge from the eggs in the month of April and May.
Turtles also arrive at Gahirmatha beach in Odisha's Kendrapara district, which is known as the world's largest known rookery. Besides, Puri and Devi River Mouth beaches too host Olive Ridley turtles this time around.
As part of a long-term study, researchers of the Zoological Survey of India (ZSI) continued tagging of Olive Ridley turtles at three mass nesting sites – Gahirmatha, Devi River mouth, and Rushikulya. The metal tags affixed to turtles are non-corrosive and they do not harm their body. The metal can be removed later. The tags are uniquely numbered containing details such as name of organisation, country-code, and email address.
"This year, we propose to tag 3200 turtles. It is heartening to note that 150 Olive Ridley turtles which were tagged have returned to lay eggs on beaches of Odisha this year," ZSI scientist Anil Mohapatra said.
Dr. Mohapatra said two turtles tagged in Odisha were spotted in Sri Lanka and Tamil Nadu. The ZSI have targeted to tag over 30,000 over a period of 10 years. ZSI study focuses on how often turtles return to Odisha beaches for mass nesting and different factors affecting turtle movement.